Moons ago, I blogged on some of the problems encountered with the search-led discovery that is the predominant discovery method used online.
I had another great example today: a client wanted to know 'how to customise that block at the side of search results'. They meant, of course, Google's Knowledge Graph. But without knowing that name – a name that speaks nothing to non-techies – it was impossible to find by searching Google itself.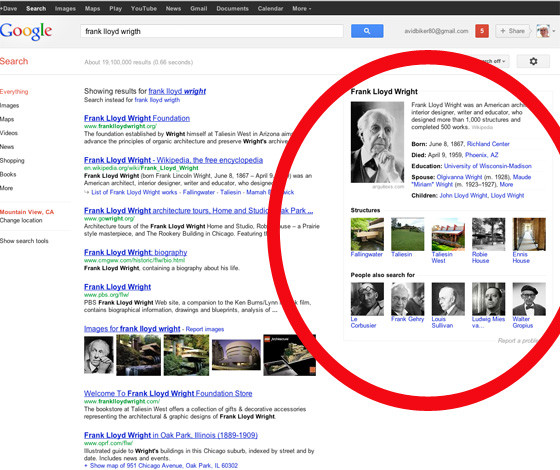 Bang 'customise knowledge graph' into Google, though, and the first result is all the help anyone could ever need.
This is a problem of language and of discovery. If a user doesn't know or can't remember the name of a product, brand or other attribute, they are prevented from being able to find it. It's like that episode of The Simpsons where Homer can't remember what a spoon is called.
Lately I've seen some different ways to help users discover things:
– Shops like Firebox and Fatface drop users straight into the catalogue. Zofia Chylak executes a similar strategy differently – more like how Inc.com keeps you scrolling through articles.
– Car dealership JCT600 pushes search, with areas beneath the fold prioritised for filtering and a top nav for brand and model-driven discovery.
– The CloudSight API enables you to upload images and have schematic data fed back – data that could inform onsite recommendations, personalisation, email campaigns and more (give it a try – its free). This could integrate neatly with Facebook/social photo data and mobile apps. It similar, in its entity-based, rather than textual focus, to how Google Photos' search works.
These are all steps forward. Fundamentally, however, we're still existing in a folder/subfolder/file HTML structure that demands we navigate downwards – rather than through, across, diagonally, into or out of. Its that structure that promoted search as a shortcut but, like all shortcuts, it can become restrictive and proscriptive.
Sometimes, we users need the freedom to break off the beaten path:
Edit: this TED talk from Jinha Lee shows the role that advancing technology can play in developing ecommerce and content discovery online.